Toyin Lawani has bashed some online trolls on Instagram, telling them she made the people they worship.

Few days ago, Toyin Lawani received serious bashing online after she stated that she does not repeat clothes.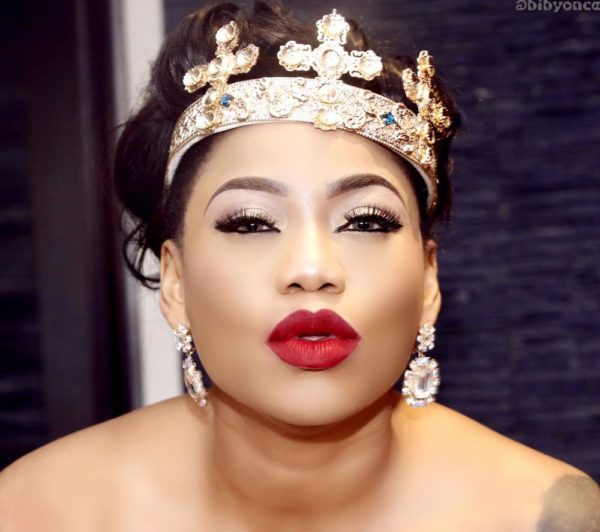 In an apparent response to those who attacked her, Toyin in a new post on her Instagram page, explained what she meant when she said she doesn't repeat clothes. She also stated that she made a lot of the people that trolls on the internet worship.
See what she wrote below;
"I dnt fake it for the Gram,I enjoy wearing new creations from time to time,which is why I dnt Repeat Clothes& I keep them as samples, I don't sell them, So I can always recreate it, I create new ones for my Clients, I only give out new Clothes for safety Reasons and you should do the same too, Im Talented & I have new ideas all the time, I need to showcase them with my Great Body, The truth is I actually wear more than 365 clothes per year, I swear on my kids?I do all this just for my Business,I have a Great Body to showcase my pieces &my charisma is on a?, I'm never satisfied when others wear them,im A Natural Born Talent,if we all promote Nigeria the way we should we won't be where we Are Today ?
I worked so Hard from an early Age to get to where I am today,You can never take that Away from me,yet I do things&open doors for all of us internationally,Internationally they die to Rock my pieces&they advice me to leave nigeria&I'm actually thinking of doing so,the hate is too much,I empower,I inspire,I work without sleep,yet I get so much hate ,why?pls what do you do,you stay on Blogs&hate on the people that can change your life ,I'm not perfect,but for sure im Better than you all who run others down,the people you worship I made them who they are today,today is not the day of talk,But one day just know I will stoop so low to their level To tell you what I have done for them&how they became who they are today,Be very careful,when you are Very nice &accommodating all sorts of Riff Ragga will want your help &befriend you,you will help and they will still take advantage of you by saying they know you so they can climb a ladder of the same success as you even if they didn't suffer to get it as you,they will use you to Rise and after they will shit on you even when the world know they are talentless ,stating the obvious,I have kids and anything that will disturb their state of mind, I will cut it off with big cutlass or matchet ,I'm not perfect but I will do anything to make my kids grow well without saying Mom but I saw this person doing this or that,pls Quit all this hate&let's Grow nigeria,You all won't be so jobless after all ,I'm not on your level atallllllll wakeup?"


"I made the Celebrities you worship Today" – Toyin Lawani Brags
Reviewed by
limio
on
August 23, 2018
Rating: